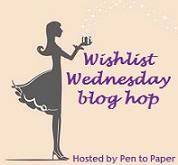 Welcome to my twenty-second Wishlist Wednesday post for this great blog hop hosted by
Dani at Pen to Paper.
This week I've chosen
Only The Innocent by Rachel Abbott
When Laura Fletcher approaches her home in Oxfordshire to find hordes of photographers crowding the gates, she knows there is something terribly wrong. She is faced with the shocking news that her husband is dead - brutally murdered - and according to Chief Inspector Tom Douglas, there is little doubt that the murderer is a woman.
In a marriage that has taken her from the glamorous five star luxury of London, Venice and Positano to a bleak and draughty manor house in rural Oxfordshire, Laura has learned to guard her secrets well. She is not
alone. It would appear that all the women in her husband's life have something to hide.
But there is one secret that she has never shared, and when the investigation reaches its dramatic and horrific climax, she realises that she has no choice. She has to give Tom Douglas the final piece of the puzzle. And this changes everything, leaving Douglas with a terrible dilemma: whether to punish the guilty, or protect the innocent.
Want to join in??
Follow Pen to Paper as the host
Pick a book from your wishlist that you are dying to get your hands on and read
Wrote a post telling your readers about the book and why it's on your wishlist
Add your blog to the linky at the bottom of her post
Put a link back to Pen to Paper somewhere on your post with a note about the host
Visit the other blogs, follow and enjoy :)
What's on your wishlist this week? Leave me a link to your post, I'll be sure to pop by and check it out!