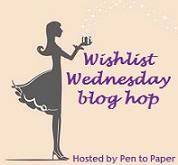 Welcome to my twenty-first Wishlist Wednesday post for this great blog hop hosted by
Dani at Pen to Paper.
This week I've chosen
Guilt by Association
by
Marcia Clark
Los Angeles D.A. Rachel Knight is a tenacious, wise-cracking, and fiercely intelligent prosecutor in the city's most elite division. When her colleague, Jake, is found dead at a grisly crime scene, Rachel is shaken to the core. She must take over his toughest case: the assault of a young woman from a prominent family.
But she can't stop herself from digging deeper into Jake's death, a decision that exposes a world of power and violence and will have her risking her reputation--and her life--to find the truth.
Why this book? I love the sound of it and though it has legal thriller links it does not seem to be based in the courtroom. However it's going to be a love or hate thing depending on whether I connect with the protagonist or if her 'wise cracking' tenacity gets on my nerves!
I've recently finished what I was reading and seeing as it's my birthday, I'm going to treat myself and get this on my Kindle today :D
Want to join in??
Follow Pen to Paper as the host
Pick a book from your wishlist that you are dying to get your hands on and read
Wrote a post telling your readers about the book and why it's on your wishlist
Add your blog to the linky at the bottom of her post
Put a link back to Pen to Paper somewhere on your post with a note about the host
Visit the other blogs, follow and enjoy :)
What's on your wishlist this week? Leave me a link to your post, I'll be sure to pop by and check it out!