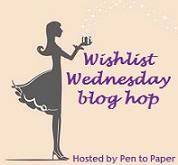 Welcome to my twenty-eighth Wishlist Wednesday; part of the great blog hop hosted by
Dani at Pen to Paper.
This week I've chosen
Locked In
AND
Vigilante
by Kerry Wilkinson.
They think they are safe at home. Someone knows better.
When a body is found in a locked house, Detective Sergeant Jessica Daniel is left to not only find the killer but discover how they got in and out.
With little in the way of leads and a journalist that seems to know more about the case than she does, Jessica is already feeling the pressure – and that's before a second body shows up in identical circumstances to the first.
How can a murderer get to victims in seemingly impossible situations and what, if anything, links the bodies?
Dead bodies are piling up for Detective Sergeant Jessica Daniel. Usually when a serial killer is on the loose, the pressure would be building to find the perpetrator but the victims are all hardened criminals themselves.
The national media can't believe their luck with an apparent vigilante on the streets, while Jessica's new boss seems grateful someone else is doing their job for them.
But things aren't so straightforward when forensics matches blood from the apparent killer to a man already behind bars.
Ok, slightly unusually for me there's not one BUT TWO books on my list this week. Originally I was just going to write about Vigilante which is the second in the Jessica Daniel Series but I thought I'd look at the first for reference and really liked the sound of that one too! The descriptions don't give too much away along the lines of the other themes of the books and people involved, but if I like the protagonist I definitely think this sounds like a series I'd enjoy.
Want to join in??
Follow Pen to Paper as the host
Pick a book from your wishlist that you are dying to get your hands on and read
Wrote a post telling your readers about the book and why it's on your wishlist
Add your blog to the linky at the bottom of her post
Put a link back to Pen to Paper somewhere on your post with a note about the host
Visit the other blogs, follow and enjoy :)
What's on your wishlist this week? Leave me a link to your post, I'll be sure to pop by and check it out!