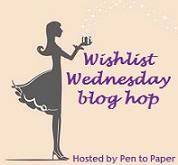 Welcome to my twenty-seventh Wishlist Wednesday; part of the great blog hop hosted by
Dani at Pen to Paper.
This week I've chosen Sleepyhead by Mark Billingham.
It's rare for a young woman to die from a stroke and when three such deaths occur in short order it starts to look like an epidemic. Then a sharp pathologist notices traces of benzodiazepine in one of the victim's blood samples and just traceable damage to the ligaments in her neck, and their cause of death is changed from 'natural' to murder.The police aren't making much progress in their hunt for the killer until he appears to make a mistake: Alison Willetts is found alive and D.I. Tom Thorne believes the murderer has made a mistake, which ought to allow them to get on his tracks. But it was the others who were his mistakes: he doesn't want to take life, he just wants to put people into a state where they cannot move, cannot talk, cannot do anything but think.When Thorne, helped by the neurologist looking after Alison, starts to realise what he is up against he knows the case is not going to be solved by normal methods - before he can find out who did it he has to understand why he's doing it.
I like the sound of this book a lot. It's got great reviews on amazon and sounds a bit out of the ordinary with the baddie trying to permanently trap people in their own bodies, unable to communicate rather than actually murder them. My only concern is the depiction of the protagonist who a few people mentioned falls into the typical worn out detective, divorced with a slight drinking problem. However I'm interested enough in the plot to want to find out what I think for myself!
Want to join in??
Follow Pen to Paper as the host
Pick a book from your wishlist that you are dying to get your hands on and read
Wrote a post telling your readers about the book and why it's on your wishlist
Add your blog to the linky at the bottom of her post
Put a link back to Pen to Paper somewhere on your post with a note about the host
Visit the other blogs, follow and enjoy :)
What's on your wishlist this week? Leave me a link to your post, I'll be sure to pop by and check it out!