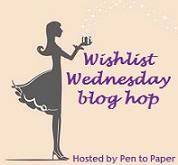 Welcome to my twenty-ninth Wishlist Wednesday; part of the great blog hop hosted by
Dani at Pen to Paper.
In keeping with the season I've chosen
Apartment 16
by Adam Nevill
Some doors are better left closed . . . In Barrington House, an upmarket block in London, there is an empty apartment. No one goes in, no one comes out. And it's been that way for fifty years. Until the night watchman hears a disturbance after midnight and investigates. What he experiences is enough to change his life forever. A young American woman, Apryl, arrives at Barrington House. She's been left an apartment by her mysterious Great Aunt Lillian who died in strange circumstances. Rumours claim Lillian was mad. But her diary suggests she was implicated in a horrific and inexplicable event decades ago. Determined to learn something of this eccentric woman, Apryl begins to unravel the hidden story of Barrington House. She discovers that a transforming, evil force still inhabits the building. And the doorway to Apartment 16 is a gateway to something altogether more terrifying . . .
Want to join in??
Follow Pen to Paper as the host
Pick a book from your wishlist that you are dying to get your hands on and read
Wrote a post telling your readers about the book and why it's on your wishlist
Add your blog to the linky at the bottom of her post
Put a link back to Pen to Paper somewhere on your post with a note about the host
Visit the other blogs, follow and enjoy :)
What's on your wishlist this week? Leave me a link to your post, I'll be sure to pop by and check it out!