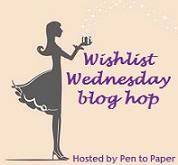 Welcome to my eleventh Wishlist Wednesday post for the awesome blog hop hosted by
Dani at Pen to Paper
This week my WW book is The Ninth Life of Louis Drax by Liz Jensen
Nine-year-old Louis Drax is a problem child: bright, precocious, deceitful, and dangerously, disturbingly, accident prone. When he falls off a cliff into a ravine, the accident seems almost predestined.
Louis miraculously survives - but the family has been shattered. Louis' father has vanished, his mother is paralysed by shock, and Louis lies in a deep coma from which he may never emerge.
In a clinic in Provence, Dr Pascal Dannachet tries to coax Louis back to consciousness. But the boy defies medical logic, startling Dannachet out of his safe preconceptions, and drawing him inexorably into the dark heart of Louis' buried world. Only Louis holds the key to the mystery surrounding his fall - and he can't communicate. Or can he?
It's been ages since I read a decent psychological thriller and this one sounds great. It was on on Amazon Daily Deal this week and I missed it! I hope I can pick it up sometime but wish I'd managed to get it when it was on offer.
Want to join in??
Follow Pen to Paper as the host
Pick a book from your wishlist that you are dying to get your hands on and read
Wrote a post telling your readers about the book and why it's on your wishlist
Add your blog to the linky at the bottom of her post
Put a link back to Pen to Paper somewhere on your post with a note about the host
Visit the other blogs, follow and enjoy :)
What's on your wishlist this week? Comment below and share or share a link to your post :)