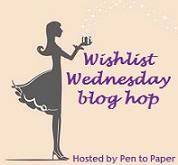 Welcome to my twelfth Wishlist Wednesday post for the awesome blog hop hosted by
Dani at Pen to Paper
This week my WW book is The Uninvited by Liz Jensen
A seven-year-old girl puts a nail-gun to her grandmother's neck and fires. An isolated incident, say the experts. The experts are wrong. Across the world, children are killing their families. Is violence contagious?As chilling murders by children grip the country, anthropologist Hesketh Lock has his own mystery to solve: a bizarre scandal in the Taiwan timber industry. Hesketh has never been good at relationships: Asperger's Syndrome has seen to that. But he does have a talent for spotting behavioural patterns, and an outsider's fascination with group dynamics. Nothing obvious connects Hesketh's Southeast Asian case with the atrocities back home. Or with the increasingly odd behaviour of his beloved step-son, Freddy. But when Hesketh's Taiwan contact dies shockingly and more acts of sabotage and child violence sweep the globe, he is forced to acknowledge possibilities that defy the rational principles on which he has staked his life, his career and, most devastatingly of all, his role as a father.Part psychological thriller, part dystopian nightmare, The Uninvited is a powerful and viscerally unsettling portrait of apocalypse in embryo.
Why have I added this to my WW? The eagle-eyed among you might notice that I had a book by this author on my WW last week but when looking into
The Ninth Life Of Louis Drax
I found myself looking the other books Liz Jensen has written. Some didn't really appeal to me but this one definitely stood out! The Uninvited seems more of a mix of styles, venturing off into dystopian which isn't my usual genre but I really like the sound of it and think it could be a good step into reading more dystopia books.
Want to join in??
Follow Pen to Paper as the host
Pick a book from your wishlist that you are dying to get your hands on and read
Wrote a post telling your readers about the book and why it's on your wishlist
Add your blog to the linky at the bottom of her post
Put a link back to Pen to Paper somewhere on your post with a note about the host
Visit the other blogs, follow and enjoy :)
What's on your wishlist this week? Comment below and share or share a link to your post :)