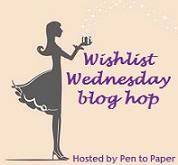 Welcome to my thirteenth Wishlist Wednesday post for this great blog hop hosted by
Dani at Pen to Paper
This week my WW book is Deadly Obsession by D.S Butler (part of the DS Jack Mackinnon crime series)
HE WATCHES ... HE WAITS ... HE STRIKES​
​
A young Polish girl fixated on fame ~ A killer with a deadly obsession
DS Jack Mackinnon has his work cut out trying to track down missing student, Anya Blonski. As Mackinnon follows the trail of obsession to the shady owners of the Star Academy, who thrive on society's obsession with reality TV shows, he realises the fame they offer comes at a price.
When a second girl goes missing from the same academy, Mackinnon is forced to consider a serial killer may be stalking the city.
I've chosen this book because it's the first in a series of books and by an author I've not read before. I was interested to read that the author has a PhD in biochemistry. She has worked in the chemistry department of Oxford Uni, in the NHS as well as a hospital pathology laboratory and from what I understand this comes across in her books. You all know I'm a sucker for following a series through and I'm always on the lookout for authors whose work I enjoy and this seems just like my kind of thing!
Want to join in??
Follow Pen to Paper as the host
Pick a book from your wishlist that you are dying to get your hands on and read
Wrote a post telling your readers about the book and why it's on your wishlist
Add your blog to the linky at the bottom of her post
Put a link back to Pen to Paper somewhere on your post with a note about the host
Visit the other blogs, follow and enjoy :)
What's on your wishlist this week? Comment below and share or share a link to your post :)