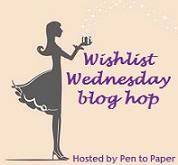 Welcome to my sixteenth Wishlist Wednesday post for this great blog hop hosted by
Dani at Pen to Paper.
This week I've chosen Hidden by Kendra Elliot
Eleven years ago, the Co-ed Slayer murdered nine female students on the Oregon State University campus. Lacey Campbell barely escaped his attack, but lost her best friend whose remains were never found. As the sole surviving victim, Lacey helped send the sadistic serial killer to prison for life.
Now a forensic odontologist examining teeth and bones for the state Medical Examiner, Lacey is devastated when she arrives at a crime scene and identifies the skeletal remains as her college friend's.
The remains are discovered on the land of ex-cop Jack Harper. Sparks fly between him and Lacey, even as they realize that the prosecution's witnesses from a decade ago are now being murdered one by one. All the evidence points to the Co-ed Slayer as the culprit—only, he's long since dead. So who's the new killer? And is Lacey next in line to die?
I've had my eye on this one for a while as I originally saw the third in the series. 'Buried' is also on my wishlist but this one is the first one in the Bone Secrets collection, and though they don't seem to be connected, I like to start at the beginning when I can
Want to join in??
Follow Pen to Paper as the host
Pick a book from your wishlist that you are dying to get your hands on and read
Wrote a post telling your readers about the book and why it's on your wishlist
Add your blog to the linky at the bottom of her post
Put a link back to Pen to Paper somewhere on your post with a note about the host
Visit the other blogs, follow and enjoy :)
What's on your wishlist this week? Leave me a link to your post, I'll be sure to pop by and check it out!