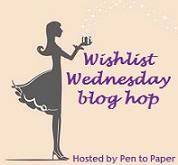 Welcome to my fifteenth Wishlist Wednesday post for this great blog hop hosted by
Dani at Pen to Paper.
This week I've chosen Stalkers by Paul Finch. Here's the info....
Time's up. You're Next.
"All he had to do was name the woman he wanted. It was that easy. They would do all the hard work."
Detective Sergeant Mark 'Heck' Heckenberg is investigating the disappearance of 38 different women. Each one was happy and successful until they vanished without a trace.
Desperate to find her missing sister, Lauren Wraxford seeks out Heck's help. Together they enter a seedy underworld of gangsters and organised crime.
But when they hear rumours about the so-called 'Nice Guys Club' they hit a brick wall. They're the gang that no one will talk about. Because the Nice Guys can arrange anything you want. Provided you pay the price…
Why did I choose this book? Mainly because I'm interested to read some of this author's work; Paul Finch is a former cop and journalist and is now a full-time writer. This book and others he's written are well reviewed on Amazon and Goodreads and this seemed like a good place to start!
Want to join in??
Follow Pen to Paper as the host
Pick a book from your wishlist that you are dying to get your hands on and read
Wrote a post telling your readers about the book and why it's on your wishlist
Add your blog to the linky at the bottom of her post
Put a link back to Pen to Paper somewhere on your post with a note about the host
Visit the other blogs, follow and enjoy :)
What's on your wishlist this week? Comment below and share or share a link to your post :)