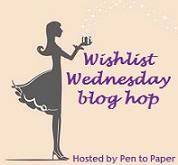 Welcome to my eighteenth Wishlist Wednesday post for this great blog hop hosted by
Dani at Pen to Paper.
This week I've chosen Bicycle Shop Murder by Robert Burton Robinson
Greg Tenorly lives a quiet and lonely life in a small East Texas town, until he is selected as a juror for a murder trial. A beautiful, mysterious redhead befriends him, and seems to have a romantic interest. But is she merely using him to influence the outcome of the trial? By the end of the first week, three people connected with the case are dead, and Greg is beginning to fear for his own life. He is now convinced that a powerful Dallas attorney is directing the murder spree in his little town. But why? He is determined to find out. But his investigation just might earn him a spot at the top of the hit list
Why this book? I haven't been able to make a lot of time to read recently so I like the sound of this murder mystery. It doesn't sound too complex and it's reviews indicate it can be read in a few easy sittings. I think this might whizz it's way to the top of my list as it's just what I need right now!
Want to join in??
Follow Pen to Paper as the host
Pick a book from your wishlist that you are dying to get your hands on and read
Wrote a post telling your readers about the book and why it's on your wishlist
Add your blog to the linky at the bottom of her post
Put a link back to Pen to Paper somewhere on your post with a note about the host
Visit the other blogs, follow and enjoy :)
What's on your wishlist this week? Leave me a link to your post, I'll be sure to pop by and check it out!