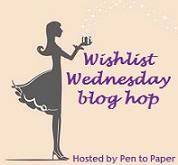 Welcome to my thirty-third Wishlist Wednesday which is part of the great blog hop hosted by
Dani
at
Pen to Paper.
This week I've chosen
Killer Move
by
Michael Marshall
Your password is protected. Your life is not...
With a lucrative job, great marriage and a beautiful house, Bill Moore is a man with a plan. It's all working out just fine, until the day he finds a card left on his desk, printed with just one word:
MODIFIED
From that moment, his life begins to change - at first barely noticeably, then in more and more disturbing ways. Bill soon finds out, in the most terrifying way, that he has become the subject of a dark and deadly game . . . and that he has no choice but to fight back.
There's something about this book that intrigues me. Firstly I had to root around for this much of a description as the synopsis on the Kindle page was delightfully short. I haven't read any reviews for fear of spoilers though the editorial reviews are really good and make it sound like a good twisty thriller. I definitely want to add this to my TBR list!
Want to join in??
Follow Pen to Paper as the host
Pick a book from your wishlist that you are dying to get your hands on and read
Wrote a post telling your readers about the book and why it's on your wishlist
Add your blog to the linky at the bottom of her post
Put a link back to Pen to Paper somewhere on your post with a note about the host
Visit the other blogs, follow and enjoy :)
What's on your wishlist this week? Leave me a link to your post, I'll be sure to pop by and check it out!