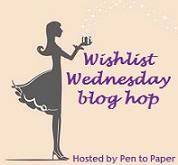 Welcome to my thirty-fourth Wishlist Wednesday which is part of the great blog hop hosted by
Dani
at
Pen to Paper.
This week I've chosen
The Detective's Daughter
by
Lesley Thomson
Kate Rokesmith's decision to go to the river changed the lives of many.
Her murder shocked the nation. Her husband, never charged, moved abroad under a cloud of suspicion. Her son, just four years old, grew up in a loveless boarding school. And Detective Inspector Darnell, vowing to leave no stone unturned in the search for her killer, began to lose his only daughter. The young Stella Darnell grew to resent the dead Kate Rokesmith.
Now, thirty years later, Stella is dutifully sorting through her father's attic after his sudden death. The Rokesmith case papers are in a corner, gathering dust: DI Darnell must have copied them when he retired from the force. Stella knows she should destroy them. Instead, she opens the box, and starts to read...
Want to join in??
Follow Pen to Paper as the host
Pick a book from your wishlist that you are dying to get your hands on and read
Wrote a post telling your readers about the book and why it's on your wishlist
Add your blog to the linky at the bottom of her post
Put a link back to Pen to Paper somewhere on your post with a note about the host
Visit the other blogs, follow and enjoy :)
What's on your wishlist this week? Leave me a link to your post, I'll be sure to pop by and check it out!