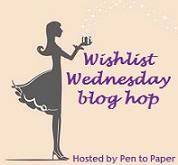 Welcome to my thirtysecond Wishlist Wednesday which is part of the great blog hop hosted by
Dani
at
Pen to Paper.
I've been missing this weekly blog hop but have been a bit uninspired by my Kindle recently. I'm hoping this may get me going again! So this week I've chosen
Borkmann's Point
by
Håkan Nesser
Borkmann's rule was hardly a rule; in fact, it was more of a comment, a landmark for tricky cases . . . In every investigation, he maintained, there comes a point beyond which we don't really need any more information. When we reach that point, we already know enough to solve the case by means of nothing more than some decent thinking. A seedy ex-con and a wealthy real-estate mogul are brutally murdered with an axe in the quiet coastal town of Kaalbringen. Chief Inspector van Veeteren, bored of his holiday nearby, is summoned to assist the local authorities. But there seems to be nothing to link the victims. Another body is discovered, again with no obvious connection, and the pressure mounts. The local police chief, just days away from retirement, is determined to wrap things up before he goes. Then there's a fourth murder, and a brilliant young female detective goes missing – perhaps she has reached Borkmann's Point before anyone else . . .
I haven't heard of this author or book before tonight when I started browsing through amazon, and I'm not sure how I got to it as it doesn't seem to be on any best seller lists, but it has some really good reviews and I'm interested to see how this Swedish author's work translates both in plot and setting.
Want to join in??
Follow Pen to Paper as the host
Pick a book from your wishlist that you are dying to get your hands on and read
Wrote a post telling your readers about the book and why it's on your wishlist
Add your blog to the linky at the bottom of her post
Put a link back to Pen to Paper somewhere on your post with a note about the host
Visit the other blogs, follow and enjoy :)
What's on your wishlist this week? Leave me a link to your post, I'll be sure to pop by and check it out!