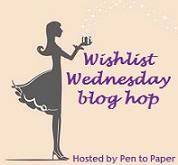 Welcome to my nineteenth Wishlist Wednesday post for this great blog hop hosted by
Dani at Pen to Paper.
This week I've chosen Accused by Mark Giminez
'Scott, it's Rebecca. I need you.'
After years of silence, Texan lawyer Scott Fenney receives a devastating phone call from his ex-wife. She has been accused of murdering her boyfriend, Trey – the man she left Scott for – and is being held in a police cell. Now she is begging Scott to defend her.
Scott is used to high-stakes cases, but this one is bigger than anything he has handled before. If Rebecca is found guilty, under Texan law she will be sentenced to death. He will have her blood on his hands. As he prepares to take the stand in the most dramatic courtroom appearance of his life, Scott is forced to question everything he believes to get to the truth – to save the life of the ex-wife he still loves
Why this book? I've just finished the first book with this protagonist 'The Colour of Law' and even though it was totally far fetched I really enjoyed it. I'm interested to see where the author goes with this book and the character progression.
Want to join in??
Follow Pen to Paper as the host
Pick a book from your wishlist that you are dying to get your hands on and read
Wrote a post telling your readers about the book and why it's on your wishlist
Add your blog to the linky at the bottom of her post
Put a link back to Pen to Paper somewhere on your post with a note about the host
Visit the other blogs, follow and enjoy :)
What's on your wishlist this week? Leave me a link to your post, I'll be sure to pop by and check it out!