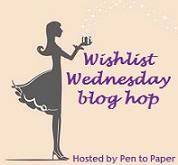 Welcome to my fifth Wishlist Wednesday post for the awesome blog hop hosted by
Dani at Pen to Paper
This week I'm adding The Ophelia Cut by John Lescroart to my wishlist...
Here's the Amazon description...
Brittany McGuire is the beautiful, twenty-three-year-old daughter of Susan Weiss and Moses McGuire - and the niece of defense attorney Dismas Hardy. Popular and pretty, Brittany has always moved easily from one boyfriend to the next, but her most recent ex, a young man named Rick Jessup, can't seem to get over her. His abuse escalates, culminating in a terrible night when Brittany is raped.
Within twenty-four hours, Rick Jessup is dead, Moses McGuire is the prime suspect in the investigation, and Dismas Hardy has been hired to defend his old friend Making things even more complicated, this case threatens to bring to light old secrets that could destroy the careers of Hardy and the police lieutenant Abe Gltsky.
As the overwhelming evidence against Moses piles up, Dismas Hardy focuses on planting doubt in the minds of the jurors - until, in a feat of legal ingenuity that is staggering in both its implications and its simplicity, Hardy sees a new way forward that might just save them all. But at what price?
I like the sound of this book as I love good legal dramas. The Ophelia Cut hasn't been released yet and I've never read anything by this author before but it's the 14th in the Dismas Hardy series. I'm assuming if he's still writing about this protagonist that he's fairly popular so while I'm waiting for this to be released, maybe I should start at the beginning!
Want to join in??
Follow Pen to Paper as the host
Pick a book from your wishlist that you are dying to get your hands on and read
Wrote a post telling your readers about the book and why it's on your wishlist
Add your blog to the linky at the bottom of her post
Put a link back to Pen to Paper somewhere on your post with a note about the host
Visit the other blogs, follow and enjoy :)
What's on your wishlist this week? Comment below and share or share a link to your post :)