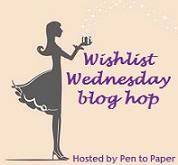 Welcome to my fourth Wishlist Wednesday post for the awesome blog hop hosted by
Dani at Pen to Paper
This wishlist Wednesday I'm adding two books in a series by
Mari Hannah
. The first book is
The Murder Wall
Eleven months after discovering a brutal double murder in a sleepy Northumbrian town, Detective Chief Inspector Kate Daniels is still haunted by her failure to solve the case. Then the brutal killing of a man on Newcastle's Quayside gives Daniels another chance to get it right, and her first case as Senior Investigating Officer. When Daniels recognises the corpse, but fails to disclose the fact, her personal life swerves dangerously into her professional life. But much worse, she is now being watched. As Daniels steps closer to finding a killer, a killer is only a breath away from claiming his next victim....
This book is followed up by,
Settled Blood
, which has the same protagonist. I can't say for sure until I've read the first if I will want to read the second but it has been well reviewed and again is in the right genre with an interesting plot.
When a young girl is found dead at the base of Hadrian's Wall, it's not long before Detective Chief Inspector Kate Daniels realises her death was no ordinary homicide. She was thrown from a great height and was probably alive before she hit the ground. Then a local businessman reports his daughter missing, has Daniels found the identity of her victim, or is a killer playing a sickening game? As the murder investigation team delve deeper into the case, half truths are told, secrets exposed, and while Daniels makes her way through a mountain of obstacles time is running out for one terrified girl.
I like the sound of Mari Hannah's books for several reasons. It's going back to my usual genre of crime and police investigation and she's had some great reviews. I haven't read many books that are set in the north of England so I'm interested to see how I feel about the settings being familiar to me. Finally the protagonist shares her name with a friend of mine though I'm not sure if that's going to help or hinder as I imagine my teacher friend solving crime!
Want to join in??
Follow Pen to Paper as the host
Pick a book from your wishlist that you are dying to get your hands on and read
Wrote a post telling your readers about the book and why it's on your wishlist
Add your blog to the linky at the bottom of her post
Put a link back to Pen to Paper somewhere on your post with a note about the host
Visit the other blogs, follow and enjoy :)
What's on your wishlist this week? Comment below and share or share a link to your post :)