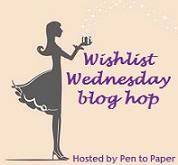 Welcome to my seventh Wishlist Wednesday post for the awesome blog hop hosted by
Dani at Pen to Paper
So here's my WW selection for this week is Pattern of Wounds by J.Mark Bertrand.
For Detective Roland March, his latest case has become personal. March doesn't know the young female who was stabbed to death, but he thinks he recognizes the crime scene. Nearly ten years ago, March gained national fame as the subject of a true-crime book. But now this crime scene bears eerie similarities to that one. And whispers begin to emerge that March may have put the wrong man behind bars. Worse, Houston may now have a serial killer on the loose. As more cases emerge that seem connected, and threats against March and those closest to him build, he must solve the case--rescuing not only the city but his own reputation as a homicide cop.
I've just finished the first in the Roland March series and was really impressed by it. I like that they are set in Houston and that I understand the references to places and people which I may not have done before I started spending time there. I enjoyed the character development and way that Bertrand linked storylines in the first book so would be interested to give this a go too.
Want to join in??
Follow Pen to Paper as the host
Pick a book from your wishlist that you are dying to get your hands on and read
Wrote a post telling your readers about the book and why it's on your wishlist
Add your blog to the linky at the bottom of her post
Put a link back to Pen to Paper somewhere on your post with a note about the host
Visit the other blogs, follow and enjoy :)
What's on your wishlist this week? Comment below and share or share a link to your post :)