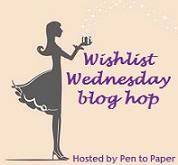 Welcome to my tenth Wishlist Wednesday post for the awesome blog hop hosted by
Dani at Pen to Paper
This week my WW book is The Bubble Gum Thief by Jeff Miller...
Special Agent Dagny Gray is smart, athletic, and fearless. She's also fragile, depressed, and anorexic. If she doesn't get healthy soon, the FBI will drop her--and she'll never have a chance to end the crime spree of the so-called "bubble gum thief."
It all started with the theft of a pack of gum, and the ominous note he left behind: THIS IS MY FIRST CRIME. MY NEXT WILL BE BIGGER. Every two weeks, he delivers on this pledge, committing a bigger crime, and promising that the next will be even worse. When petty theft gives way to bloody murder, the stakes become clear. He may have begun with the smallest crime possible, but he's building toward the biggest crime imaginable.
There's a method to the gum thief's madness, and Special Agent Dagny Gray knows she can figure it out...if the Bureau will let her. But will it be in time to prevent the cataclysmic finale of his escalating spree?
I can't tell if I'm going to love the protagonist in this book or if she has the potential to get on my nerves but I like the sound of the plot enough to want to give it a go and see how we get along! I don't think it'll be long before I get this one!
Want to join in??
Follow Pen to Paper as the host
Pick a book from your wishlist that you are dying to get your hands on and read
Wrote a post telling your readers about the book and why it's on your wishlist
Add your blog to the linky at the bottom of her post
Put a link back to Pen to Paper somewhere on your post with a note about the host
Visit the other blogs, follow and enjoy :)
What's on your wishlist this week? Comment below and share or share a link to your post :)