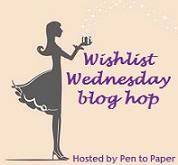 Welcome to my ninth Wishlist Wednesday post for the awesome blog hop hosted by
Dani at Pen to Paper
On a rain-drenched night, a young husband runs to the corner shop - and never returns.
Eighteen years later, his body reappears.
-Reappears, wearing the same clothes, and on the same street from which he went missing.
-Reappears, and is the victim of a hit/run driver.
He looks exactly the same now as when he vanished.
His widow, Jennifer Parkes, is determined to solve this enigma once and for all.
Other bodies are found, all missing eighteen years. None seem to have aged.
On the trail of a vicious killer, Jennifer and homicide detective Neil Lachlan are drawn into a human minefield of deception and terror; into the depths of a mystery that baffles the police and defies logic. Investigating at the forefront of scientific and medical technologies, they confront a threat that is closer than either of them could ever have imagined.
I'm interested to read this book though it has mixed reviews on Amazon, mainly concerning the writing style. I'm fairly open minded when it comes to that sort of thing and for the most part can forgive a quirky or even dodgy writing style if the characters are interesting and if the plot is well thought through. I also like to make up my own mind so wouldn't let a couple of average reviews put me off as there are a lot of positive ones too. No doubt I'll let you know what I think if I get around to buying and reading it :)
Want to join in??
Follow Pen to Paper as the host
Pick a book from your wishlist that you are dying to get your hands on and read
Wrote a post telling your readers about the book and why it's on your wishlist
Add your blog to the linky at the bottom of her post
Put a link back to Pen to Paper somewhere on your post with a note about the host
Visit the other blogs, follow and enjoy :)
What's on your wishlist this week? Comment below and share or share a link to your post :)