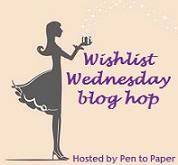 Welcome to my third Wishlist Wednesday post for the awesome blog hop hosted by Dani at
Pen to Paper
This week my wishlist book is
Dualed
by
Elsie Chapman.
This book hasn't been released yet and is totally different to my usual genre choice
Two of you exist.
Only one will survive.
The city of Kersh is a safe haven, but the price of safety is high. Everyone has a genetic Alternate - a twin raised by another family - and citizens must prove their worth by eliminating their Alts before their twentieth birthday. Survival means advanced schooling, a good job, marriage - life.
Fifteen year old West Grayer has trained as a fighter, preparing for the day when her assignment arrives and she will have one month to hunt down and kill her Alt. But then a tragic missstep shakes West's confidence. Stricken with grief and guilt, she's no longer certain that she's the best version of herself, the version worthy of a future. If she is to have any chance of winning, she must stop running not only from her Alt, but also from love... though both have the power to destroy her.
As I said this is totally different to my usual but it does sound like it has a good storyline. I'll keep it on my kindle wishlist and let you know if I venture off to buy it when it's released :)
Want to join in??
Follow Pen to Paper as the host
Pick a book from your wishlist that you are dying to get your hands on and read
Wrote a post telling your readers about the book and why it's on your wishlist
Add your blog to the linky at the bottom of her post
Put a link back to Pen to Paper somewhere on your post with a note about the host
Visit the other blogs, follow and enjoy :)
Do you read this genre... if so what would you recommend that has already been released for me to start on? Please comment below and also share what's on your wishlist this week!