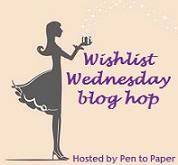 Welcome to my second Wishlist Wednesday post fro the awesome blog hop hosted by Dani at
Pen to Paper
This week my wishlist book is Fatal Flaw by William Lashner. I had a look through my kindle wishlist and found several of this author's books on there though I have never read any of his before (and to be honest have no recollection of when I added them to the list!). This sounds just up my street as it's a legal drama. Here are the details...
Some victims deserve nothing less than the truth...
Ethically adventurous Philadelphia lawyer Victor Carl usally does the right thing, but often for the wrong reasons. When old law school classmate Guy Forrest is accused of murdering his beautiful lover, Hailey Prouix, in their Main Line love nest, Carl agrees to represent him while keeping silent about his own prior romantic involvement with the victim, and his present determination to see that his client is punished for the brutal crime. But once Carl sets the machinery of retribution in motion, it may be impossible to stop it, even after his certainty begins to crack. Now Victor Carl must race across the country to uncover shocking truths: Who, really, was Hailey Prouix? And why is a killer still waiting in her shadow?
Want to join in??
Follow Pen to Paper as the host
Pick a book from your wishlist that you are dying to get your hands on and read
Wrote a post telling your readers about the book and why it's on your wishlist
Add your blog to the linky at the bottom of her post
Put a link back to Pen to Paper somewhere on your post with a note about the host
Visit the other blogs, follow and enjoy :)
Thanks for reading! Please comment below and tell me what's on your wishlist this week....