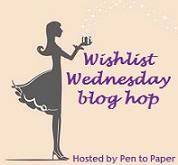 Welcome to my thirtieth Wishlist Wednesday; part of the great blog hop hosted by
Dani at Pen to Paper.
This week I've chosen The Husband's Secret by Liane Moriarty
Mother of three and wife of John-Paul, Cecilia discovers an old envelope in the attic. Written in her husband's hand, it says: to be opened only in the event of my death.
Curious, she opens it - and time stops.
John-Paul's letter confesses to a terrible mistake which, if revealed, would wreck their family as well as the lives of others.
Cecilia - betrayed, angry and distraught - wants to do the right thing, but right for who? If she protects her family by staying silent, the truth will worm through her heart. But if she reveals her husband's secret, she will hurt those she loves most . . .
I'm temporarily wandering away from my usual thriller/mystery genre into as I'm in a bit of a lull reading-wise and think something like this that isn't so gruesome may be what I need to get reading again! The book is really well reviewed across the usual sites despite some concerns that it can be a little confusing to start off with. I'm definitely interested to give it a go. Also, I know the old saying 'never judge a book yahda-yada-yada' but I much prefer the English cover to the USA one!
Want to join in??
Follow Pen to Paper as the host
Pick a book from your wishlist that you are dying to get your hands on and read
Wrote a post telling your readers about the book and why it's on your wishlist
Add your blog to the linky at the bottom of her post
Put a link back to Pen to Paper somewhere on your post with a note about the host
Visit the other blogs, follow and enjoy :)
What's on your wishlist this week? Leave me a link to your post, I'll be sure to pop by and check it out!