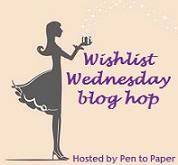 Welcome to my thirtyfirst Wishlist Wednesday which is part of the great blog hop hosted by
Dani at Pen to Paper.
This week I've chosen Heart Of The Demon by Michael Fowler
Detective Sergeant Hunter Kerr and his partner DC Grace Marshall are called to the scene of a brutal slaying; the victim is a 14 year-old girl.
The killer has been disturbed but he has left behind a puzzle. What is the significance of the marks gouged into the girl's torso and why has a playing card been left with the body?
As Barnwell Major Investigation Team struggle to resolve the mystery they are confronted with another gruesome discovery; the mummified remains of a teenage girl are unearthed from the slurry of a former colliery site. This corpse bears all the hallmarks of the first slaying and yet this body has been buried for well over a decade.
They soon realise that a savage killer is stalking Yorkshire, preying on young girls, and with the discovery of the bodies comes a series of revelations about the past.
For Detective Sergeant Hunter Kerr and his team, the race against time to prevent further murders is complicated by the fact that several of his men have been involved on the periphery of earlier crimes, without even knowing it. And as the death toll mounts as more bodies are unearthed and new victims succumb to the murderer's sick appetites, he finds that this case comes very close to home.
Very close indeed...
I chose this book for a couple of reasons; firstly I was interested by the plot (many of you will recognise it's in my favourite genre!) but also it was set i
n Wombwell/Barsley which is very close to where I lived for several years. The reviews are very positive for this book and specifically mention how the location added to their overall enjoyment, especially if you have knowledge of the area and dialects.
It's on offer at the moment at just £1.15 or $2.99 so I'm thinking this is going to make it's way onto my TBR pile sooner rather than later!
Want to join in??
Follow Pen to Paper as the host
Pick a book from your wishlist that you are dying to get your hands on and read
Wrote a post telling your readers about the book and why it's on your wishlist
Add your blog to the linky at the bottom of her post
Put a link back to Pen to Paper somewhere on your post with a note about the host
Visit the other blogs, follow and enjoy :)
What's on your wishlist this week? Leave me a link to your post, I'll be sure to pop by and check it out!