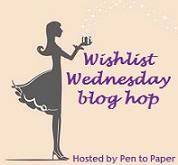 After a few weeks away I'm happy to be joining in with Wishlist Wednesday again, the great blog hop hosted by
Dani at Pen to Paper.
This week I've chosen
Desert Places by Blake Crouch
Greetings. There is a body buried on your property, covered in your blood. The unfortunate young lady's name is Rita Jones. In her jeans pocket you'll find a slip of paper with a phone number on it. Call that number. If I have not heard from you by 8:00 P.M., the police will receive an anonymous call. I'll tell them where Rita Jones is buried on your property, how you killed her, and where the murder weapon can be found in your house. (I do believe a paring knife is missing from your kitchen.) I strongly advise against going to the police, as I am always watching you.
Andrew Z. Thomas is a successful writer of suspense thrillers, living the dream at his lake house in the piedmont of North Carolina. One afternoon in late spring, he receives a bizarre letter that eventually threatens his career, his sanity, and the lives of everyone he loves. A murderer is designing his future, and for the life of him, Andrew can't get away.
I'm loving the sound of this and it's currently on offer for Amazon Kindle users. I'm sure this will be making it's way on to my TBR pile pretty quickly!
Want to join in??
Follow Pen to Paper as the host
Pick a book from your wishlist that you are dying to get your hands on and read
Wrote a post telling your readers about the book and why it's on your wishlist
Add your blog to the linky at the bottom of her post
Put a link back to Pen to Paper somewhere on your post with a note about the host
Visit the other blogs, follow and enjoy :)
What's on your wishlist this week? Leave me a link to your post, I'll be sure to pop by and check it out!