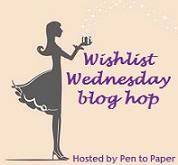 Welcome to my thirty-fifth Wishlist Wednesday which is part of the great blog hop hosted by
Dani
at
Pen to Paper.
This week I've chosen
The Baxter Trust
and
The Anonymous Client
by
Parnell Hall.
Sexy young Sheila Benton loses a multi-million dollar trust if she's involved in any scandal, so it probably would have been wiser not to do drugs, run around with a married man, and find a dead blackmailer on her kitchen floor. Defending her from a murder charge is a tough first case for attorney Steve Winslow, particularly since her trustee won't pay him, and he can't afford to quit his day job, driving a cab.
The Anonymous Client – What young attorney wouldn't be delighted to get a $10,000 cash retainer in the mail? Steve Winslow might have been if he knew who sent it. As it is, it gets him arrested for murder, grilled by the cops, and hauled before the grand jury. And he still doesn't know who his client is.
I was initially only going to select The Anonymous Client as my Wishlist Wednesday this week but its the second book in a series so I figured I'd include the first too as I'm likely to start from the beginning. At only 49p per book and good reviews all round I think I'll probably have them both on my to be read shelf sooner rather than later!
Want to join in??
Follow Pen to Paper as the host
Pick a book from your wishlist that you are dying to get your hands on and read
Wrote a post telling your readers about the book and why it's on your wishlist
Add your blog to the linky at the bottom of her post
Put a link back to Pen to Paper somewhere on your post with a note about the host
Visit the other blogs, follow and enjoy :)
What's on your wishlist this week? Leave me a link to your post, I'll be sure to pop by and check it out!