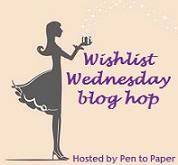 Welcome to my twenty-sixth Wishlist Wednesday; part of the great blog hop hosted by
Dani at Pen to Paper.
This week I've chosen All the Pretty Girls by JT Ellison
No, please don't.
The words echoed through his brain as he sawed, their rhythm spurring his own.
When a local girl falls prey to a sadistic serial killer, Nashville homicide lieutenant Taylor Jackson finds herself pursuing the vicious murderer. The Southern Strangler is slaughtering his way through the Southeast, leaving a gruesome memento at each crime scene – the prior victim's severed hand.
Ambitious TV reporter Whitney Connolly is certain the Southern Strangler is her ticket out of Nashville; she's got a scoop that could break the case, but has no idea how close to this story she really is.
As the killer spirals out of control, everyone involved must face a horrible truth: that the purest evil is born of secrets and lies.
The synopsis doesn't give much away about this book which I like as I think too many give away too much of the plot before you've even started to read it. I love a good thriller and at only £1.99 on Kindle I think this one might make its way onto my TBR shelf pretty soon!
Want to join in??
Follow Pen to Paper as the host
Pick a book from your wishlist that you are dying to get your hands on and read
Wrote a post telling your readers about the book and why it's on your wishlist
Add your blog to the linky at the bottom of her post
Put a link back to Pen to Paper somewhere on your post with a note about the host
Visit the other blogs, follow and enjoy :)
What's on your wishlist this week? Leave me a link to your post, I'll be sure to pop by and check it out!